Thule G2 Sun Blocker Front Smart Panel
The Sun Blocker Smart Panel is a transparent and light grey micro-aired screen (with black stripe), which lets the breeze in while keeping the sun out, without losing your view.
Easy and quick installation:
- the front panel is suitable for all Thule Omnistor awnings
- the panel easily slides into the awning lead rail
- all front panels can be rolled up and are fixed with a side release buckle
Optional Thule luxury blocker panel bag available to store your tension rafter, panel material and ropes and pegs
Modular system:
- Combination of a different Smart panels is possible
- The combination with the Thule QuickFit & EasyLink tent is also possible if the tent is smaller than the awning and if there is some space in the awning lead rail to slide the panel in
The panel is available in multiple sizes so please select the part number based on the measurement diagram below and sizes tabulated: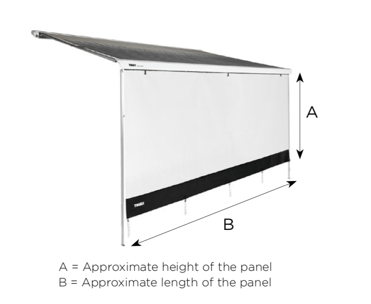 Contents:
- 1 front panel
- ground fixation: pegs and ropes
What Our Customers Say
Nick Palmer
Great support and guidance to purchase the right awning
Very quick to answer my questions and then followed by a speedy delivery service. Many thanks for your help.
Phil Newcombe
Thule replacement awning
Perfect Awnings were a very professional firm to deal with. I required a replacement Thule Omnistor awning for my Motorhome and at time of order this was an item in very short supply to all UK traders. Perfect Awnings kept you informed as the order progressed. Once supplied to the Warehouse in the UK payment was only then taken and we were advised the delivery would occur in the next 7 business days. The delivery was only 3 working days which was much appreciated. I would recommend Perfect Awnings to all.
Paul Rossiter
Gold medal for customer service
Perfect customer service from Perfect Awnings. I have struggled to get a positive response from a caravan supplier to fitting a roof mounted awning to a new caravan. In complete contrast, Steve at Perfect Awnings has supplied information, including an offer to specify the parts needed and an installation manual, to assist if, even though there is no guarantee that a sale will proceed. Other companies could learn a lot from Steve.
See More Trustpilot Reviews